You're probably no stranger to the BookTok phenomenon, a community of voracious readers on TikTok credited with reinvigorating the publishing industry and changing bookshop displays globally.
Instead of analysing BookTok as a general trend, we will focus on a snapshot of what's happening on BookTok in the UK. Who is talking about what, why this is important, and how this kind of data can be leveraged to help brands / publicists / creators connect with their audience on this platform (and how YouScan can help us understand all of this).
Where are people posting about BookTok?
This might seem like a no-brainer, but we often see TikTok trends moving to dominate on other platforms (TikTokMadeMeBuyIt, for example).
In this search, 97% of the #BookTok mentions took place on TikTok, with Twitter, YouTube and Pinterest only accounting for a combined 1.5k mentions. BookTok is staying firmly on its channel of origin.
Who Posts About BookTok?
The majority of UK BookTok are female. Still, it was interesting that although TikTok is primarily considered a Gen Z platform, the primarily younger millennial 25-34 age bracket dominates this trend (age ranges according to the Pew Research Center data).
There weren't any other commonalities when we looked at the interests of BookTokers aside from books and reading. However, there are also less popular yet still significant interests, such as parenting, poetry, art, fashion, travel, etc. This indicates that BookTok brings together a diverse group of people with distinct passions and hobbies.
YouScan allows us to analyse the occupations of any audience, and looking at BookTok, we can see that it's the writers themselves who are the most common contributors, along with a host of other creative pursuits. This information helps us understand more about the audience we want to connect with outside of the content they're posting. The better we know our audience, the better the strategy that we can write/the content we will create.
What's Trending Up?
One of my favourite features of YouScan is the 'trending words' function. This allows us to identify what is trending up and down in any given search. It's invaluable if you want to stay on top of changes by the week to ensure your content has the best possible chance of reach and engagement.
Next, let's explore the concept of the Physical TBR (To Be Read) Pile, a stack of books you've got but have yet to read. It's like a visual reminder of all the books you plan to dig into when you find the time. Physical TBR Pile is currently trending up in the UK (by almost 790% month on month).
Using the new (and amazing) Insights Copilot – the first social media listening assistant powered by ChatGPT, I could understand trends, the key themes, associated hashtags and even the titles of the books most often talked about in the posts. Some key findings included:
Many users on BookTok have large physical TBR piles that they are trying to tackle, some with over 100 books.

Users have different strategies for tackling their physical TBR, such as only allowing themselves to buy a new book after reading a certain number of books they currently own or using a TBR jar to select books to read randomly.

The most mentioned titles with physical TBR are Song of Achilles, Romance books, Fantasy books, Sherlock Holmes, Wild Scottish Knight, Miss Marple, Anne of the Island, Serpent and Dove, Jane Eyre, and In Deeper Waters.

Multiple posts mention the struggle of balancing adding new books to their collection with tackling their physical TBR.
he insights provided by Copilot were super comprehensive and saved me a tonne of analysis time.
Which Genres Are Trending?
Over the last month in the UK, I tracked 5 498 mentions of romance (up 175% month on month) and a further 1 860 mentions of the romance sub-genre 'dark romance'. These were the only two genre mentions trending upwards.
People don't really use genre tags much in the UK. It's more about the specific titles or the broader #BookTok tag.


A Deeper Dive Into Romance
Using Visual Insights, we immediately learned that the most common things to find in a BookTok #romance post are a woman with long brown hair and a book or bookcase. Women with blonde hair are almost 50% less likely to feature in these romance-themed posts.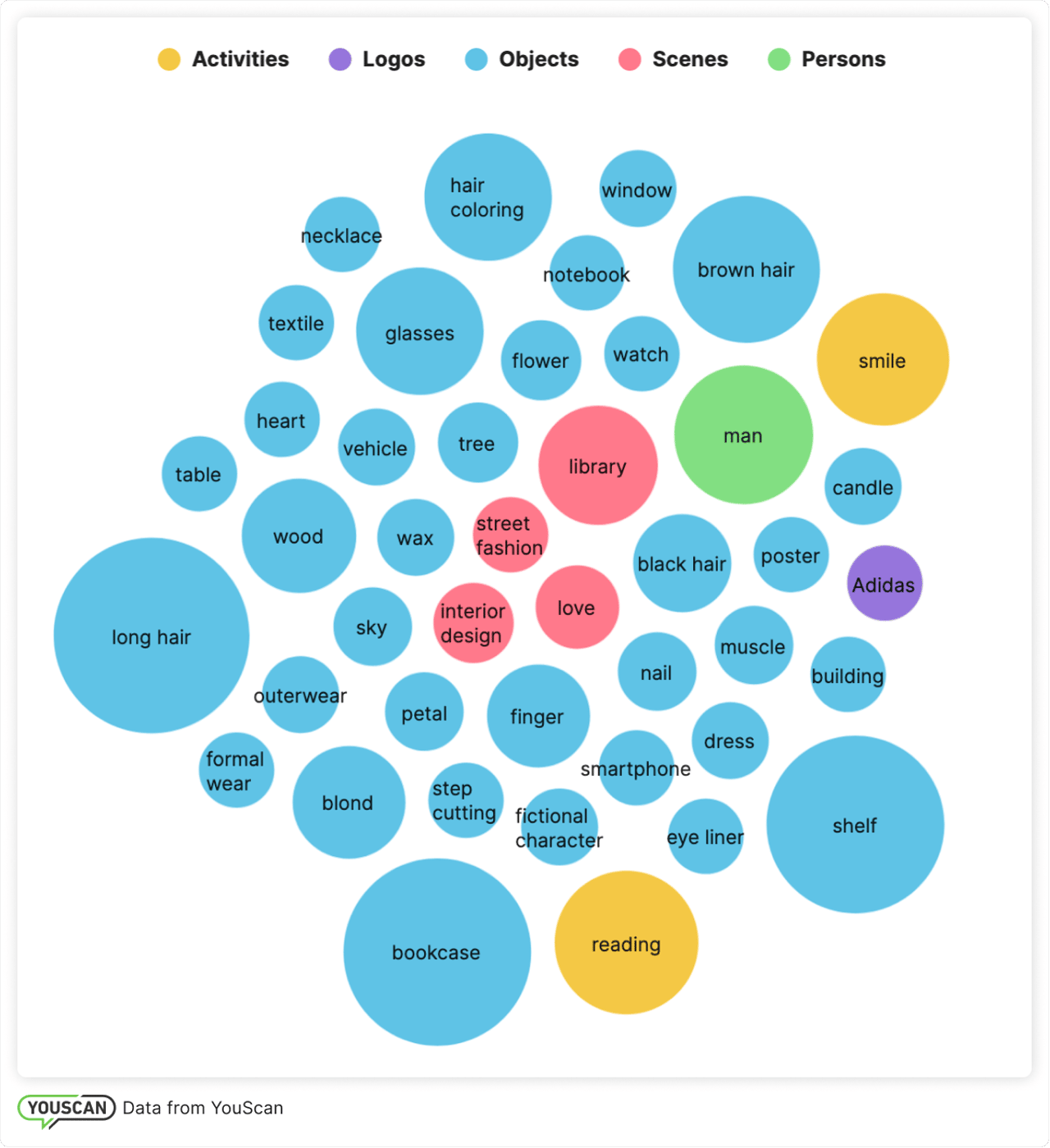 Interestingly, it's this genre where Gen Z females are the dominant audience. There were no instances of anyone over 35 using this tag in the UK last month.
When we look at the dark romance sub-genre (often accompanied by the #spicyromance tag), posts featuring women with black hair tend to receive, on average, 9 times more engagement compared to their blond counterparts.
The dark romance genre, in particular, was rife with authors sharing chapters of their work that linked to Amazon shop pages in the style of Wattpad.

Any Other Findings?
As with all of social media in 2023, BookTok is now contending with large amounts of authors trying to sell their books or create enough buzz to get a Netflix deal and trying to enlist the community to do so. Identifying hashtags that are being used for this kind of bookspam will allow you to create better boolean searches that return only the most relevant data.
Although we're seeing signs of a trend back to images over video elsewhere on TikTok, it's a video that still rules BookTok. There were around 60K videos posted in our search to just under 5K images.
Within the nano and micro-influencer categories, there were more common interest themes than the general tag, and one of these was cosplay, suggesting that BookTok has some definitive fandom behaviours.


How Can These Insights Help You
It's great that we've uncovered all this information, but how can we put it into action and make it work for us?

Identifying micro-influencers
For example, @xcosy.readsx has only 11.9K followers (a tiny amount by influencer standards), but her posts generated almost 175K engagements during May. Working with micro-influencers on a platform where engagements are much less tied to follower count makes even more sense. With short-form videos, it's all about the views, not the owned audience. YouScan now segments the influencers automatically by nano/micro/macro, which takes a lot of the leg work out of deciding who is the best fit for your project.


Understanding what trends over time
Running a longer-term analysis will allow you to identify seasonal shifts and trends peaking and slowing. This information is invaluable if you're trying to decide the best time to launch a new book in a particular genre.


Making Better Creative
Brunettes feature in more BookToks, and posts with black hair have a much higher engagement rate within the dark romance BookTok community. We can use these touchpoints when considering the type of posts we want to create.


Better paid targeting
We now know that Gen Z is much more interested in romance than millennial BookTokers; this data can easily be applied to your paid campaigns on the platform.


Winning Pitches
It's no secret that most agencies aren't doing loads of social listening before pitches, and many still don't run audience-first campaigns. Creating pitch decks that put the audience at the heart of the project and show off how much you know about the space is guaranteed to impress.
This post first appeared on the YouScan blog